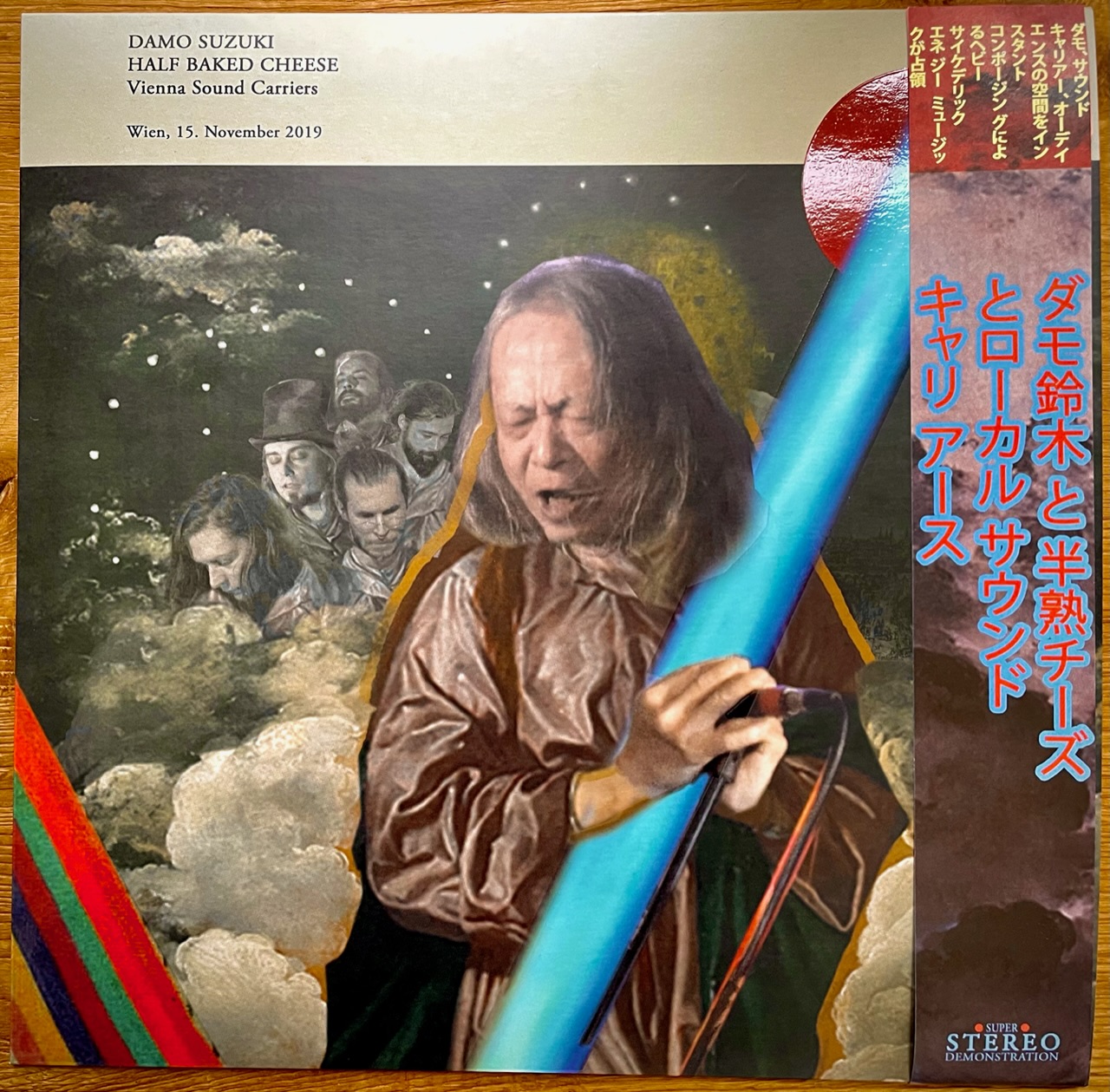 In 1973 metaphysical transporter and singer DAMO SUZUKI left the legendary experimental rock band CAN, to which he gave his voice and energy on some of the bands most ground breaking music albums and eclectic live shows. Going on pilgrimage and a journey for mystic exploration that still lasts on until today, Mr. Suzuki then started his own live music project: The DAMO SUZUKI NETWORK, traveling the world to perform completely improvised live shows together with primarily young and unknown musicians from local psychedelic underground scenes.
_ _ _
And what band could be more underground than HALF BAKED CHEESE, the viennese heavy rock phenomenon doomed to haunt some of the countries wildest events and supported bands such as Church of Misery, Heckspoiler, Hypnotic Floor, Karaba and many others? Together with the additional local sound carriers Lorenz Kainz and Matthias Kampf all of them performed a completely improvised happening on November 19th 2019, the whole show got preserved on 12 inch vinyl by Klangschutz Schallplatten.
_ _ _
Celebrating the record release with an in-depth vinyl research case on ancient Krautrock galaxies and Neo-Kraut encounters with DJ Yellow King and a live composing set by Planet Safe and friends.
Sound Carriers
Stephan Grasl (electric bass),
Lorenz Kainz (guitar, ambience)
Matthias Kampf (gongs/soundscapes/loops)
Raffael Lenz (guitar),
Sebastian Leopold (drums),
Damo Suzuki (vocals)
Sound Recording: Stefan Postavka
Mastering: Alexandr Vatagin
Lacquer Cut: Sidney Claire Meyer for Emil Berliner Studios
Vinyl Pressing: Austrovinyl
Cover Design & Artwork: Camp Comfort
Vorverkauf:
https://www.klangschutz.de/epages/78930758.sf/de_DE/?ObjectPath=/Shops/78930758/Products/Dam001
Release Veranstaltung:
https://rhiz.wien/programm/event/release-damo-suzuki-sound-carriers-half-baked-cheese-kainz-kampf/
Veröffentlichung im ORF:
https://termine.orf.at/fm4/veranstaltung/damo-suzuki-and-sound-carriers-jap-half-baked-cheese-kainz-and-kampf-98911